Best Virtual Data Room Providers
Top Provider
Rating
Best for
Profile
What are virtual data rooms?
A virtual data room (VDR) or online data room is a highly secure online platform for storing and sharing data. An online data room is a must for cumbersome deals when the firm has to review and share files with professionals outside the company. A VDR can be a website or a native app for Mac, Windows, iOS, or Android. Some virtual data rooms are designed for desktops only, while others can be used on mobile devices.
Virtual data rooms are widely spread among the corporate world players thanks to the advantages they offer:
the prevention of company data leakage;
flexible data management, regardless of where the data is located (you can read more on this feature in the section called DRM-system presented below);
accelerated and simplified workflow with integrated and flexible corporate solutions within the corporation, as well as with external players like contractors/partners.
Most often, online data rooms are used to securely exchange documents in M&A transactions. Unlike standard file-hosting services (e.g. Google Drive or Dropbox), VDR allows working with sensitive data, which is crucial for businesses. Companies are actively using data room software to secure their internal documents, as well as sign external agreements and deals.
A digital data room is considered more secure than a physical data room, as the risk of files getting destroyed or lost is extremely low. Moreover, an electronic data room has many security features, so files stored in the VDR are protected, and the risk of a data breach is minimized.
A step-by-step guide to selecting a data room solution
The preparatory stage for selecting a VDR provider
Write down what you and your team expect from using a virtual data room in your file storage and sharing processes.
Define what goals you want to achieve by introducing a VDR in your organization, as well as their success measurement metrics.
Think through all the possible use cases — this step makes the goal decomposition easier and outlines the values of using a virtual data room.
Use your use cases as a starting point to create a list of hard and soft data room features that are relevant to you. This will help you evaluate different data room providers during the execution stage. "Hard" features are those your business cannot do without (i.e. must-have tools). "Soft" feature are nice to have, but not crucial (think of the wireless smartphone charger in the car).
Define the investment price range: how much your company is ready to invest in the data room software solution at the implementation stage and how much investment you can afford later.
Define the timing and set your deadlines for selecting and deploying VDR software. Don't forget to include the time it will take to onboard employees.
Identify a responsible team (or a person) that will be leading the execution stage.
Select the teams within the business structure to test the features of the short-listed data room providers during the trial.
The execution stage for selecting a VDR provider
When the preparation stage is done, you can safely proceed to the active or execution stage of the project.
Make a list of the best virtual data rooms you can find on the market.
Gather information about all the data rooms and move forward with top-level evaluation: analyze these vendors according to various relevant criteria, including positive and negative reviews, the number of negative comments on forums, successful case studies featuring well-known clients, as well as use cases in your target industry.
Analyze the shortlist of virtual data room providers according to the list of key features that you put together at the preparation stage (hard and soft VDR features).
As a result of the previous step, you should get an even shorter list of data rooms (which is good news). The next step is to contact them — either via email or their website chat pop-up — and request a demo. During the demo, check the features this particular product offers and look through all the options for onboarding and customer support this provider offers (it can be a knowledge base, 24/7 phone support, educational videos, dedicated account managers, etc).
After the demo, select one or two providers to run their free trial options for dedicated teams chosen within your company at the preparation stage (point 8).
If the trial goes well, sign a contract and begin the deployment of the virtual data room software across your whole company. This is the right time to start the onboarding process, too.
In general, the process of choosing secure data rooms is pretty much the same as the process of choosing any other software. The main differences are the number of participants involved and the cost of the transaction.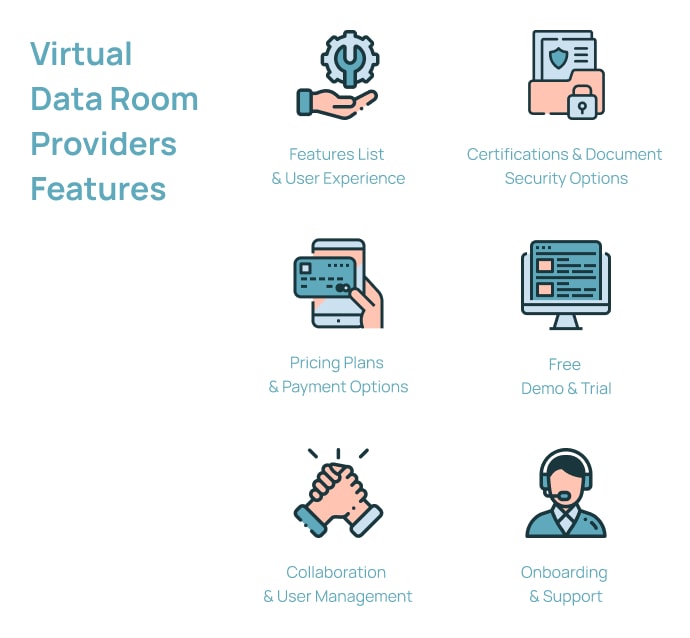 Virtual data room comparison criteria
Since the number of VDR options available on market is huge, if you want to select the best virtual data rooms for your company, you first need to define (and later fine-tune, if necessary) the selection criteria you will use.
It's clear that the guiding criteria for choosing your provider will vary depending on the industry you are in, the size of your company, and other specificities.
But however specific some of your data room needs may be, there are other needs you share with most data room users out there. This means that some of the criteria for choosing the best virtual data rooms apply across all industries and company sizes.
We can organize these universal selection criteria into five groups:
Virtual data room features set
Pricing plans and payment options
Free demo and free trial
Onboarding and support
Certification and document security options
And now, let's get into those selection criteria.
1. Virtual data room feature set
Basic features and user experience
All the best data rooms on the market offer the same basic services to their users. So, if a provider you are considering does not offer one of the staple features listed below, it's probably not a good idea to sign a contract with them — if they can't provide even basic tools, how can you be sure they will cater for your specific needs?
Instead, look for providers who do offer the usual basic VDR features, such as:
Document management features
Drag and drop file upload. This feature makes it extremely easy to upload onto the VDR files that are stored anywhere in the admin's computer or on the cloud.
Bulk upload. With this tool, admins can upload dozens of documents onto the VDR all at once.
Support for multiple file formats. Basic text formats like docx, rtf and pdf should be included, and also image formats such as png, jpg, jpeg and others.
Automatic naming and indexing. This feature saves admins a lot of time, as they don't need to change titles one by one in order to have have neatly named folders and files.
User management features
Granular user permissions. This tool allows admins full control over what each individual user can do with each specific document.
Group permissions. With this feature, admins can save time by allotting permissions to a number of users at once.
User activity analytics and reporting. It's often important for data room admins to know how each user has been interacting with the documents. For instance, the admin may see that one prospect has viewed deal documents for longer periods of time than any other prospects. This will signal to the admin that this prospect is more interested in the deal than anyone else, and therefore deserves greater attention.
With user analytics and reporting features, admins can know exactly how users interact with documents stored in the VDR.
Document security features
Customizable watermarking. This basic feature is important because it helps ensure documents stay confidential. The admin can set documents to be customized with a watermark bearing the viewer's name, so that the viewer has every interest in preventing documents from leaking.
Full text search. This tool is extremely helpful when users or admins want to find specific keywords in any of the documents on the VDR. All they have to do is type the words in the search box, and the search will be conducted across all documents on the data room.
Remote shredding. This feature allows admins to erase documents even after they've been downloaded by an user. Remote shredding increases admin control over the confidential data stored in the VDR.
Built-in redaction. This tool makes it easy for admins to erase confidential data — such as financial figures and personal info — from documents before sharing them with VDR users.
Collaboration and user management
As is the case with other digital corporate tools, secure data rooms are designed to make remotely collaborating on documents not only more secure but also easier. So if a data room makes collaboration difficult, it's only fulfilling half its purpose.
The best virtual data room for you will ensure uninterrupted collaboration on the required amount of documents, regardless of the number of stakeholders involved.
In order to customize this criterion, check how many user permissions you will need, as well as the volume of documents you want to store and share on the data room.
2. Pricing plans and payment options
Different data room services have varying pricing approaches and different payment options for their users. These include monthly or flat rates, pricing for a single project, pricing for unlimited projects, data limitations, etc.
It's important to comb through all the options and understand which virtual data room pricing system works best for your company. In the section "How much does a virtual data room cost?", you will find a detailed look into the different pricing plans for data rooms on the market.
3. Free demo and free trial
If a virtual data room provider you're looking into does not have an option of a free demo and free trial, then you need to take a close look at this company: most likely, this is an indicator that there's something wrong with their product. It might not be updating quickly enough to meet new technology requirements, or the provider itself might be a newcomer on the market.
But even if their product is genuinely good, it might not be the best for you. Do you want to invest in a month-long — or even year-long — contract, without first trying out the data room? Surely not, as you risk being stuck with software that does not meet your needs.
4. Onboarding and support
Deployment and onboarding are key to your team and your company accepting — and making good use of — your new file-sharing tool.
Also, you don't want to irk an important client, or lose a deal, just because your data room was malfunctioning at the worst possible time. When there's any problem — and there will be, because even the best data room solution is not perfect — easily reachable, immediate, expert technical support will help your team get back to work with as little time wasted as possible.
5. Certifications and document security options
As we said before, what sets online data rooms apart from other data hosting cloud services is the fact that they are secure. Now, different companies have different security requirements — so make sure you only shortlist virtual data room solutions which answer to your company's specific security requirements.
To learn more about Canadian VDR certifications for data security, read the section "Secure data room certifications in Canada" below.
Data room software use cases
Virtual data rooms are used by medium and large businesses and organizations across every industry and in most countries in the world. Companies most commonly use virtual data rooms in the following use cases:
Law firms
Accounting firms
Banks and investment banking companies
Universities and research centers
For people working together from different places, and sharing confidential research data, digital data rooms are the best tool to ensure both confidentiality and efficiency in their work.
Non-profit organizations such as government agencies and NGOs also use VDRs for secure file sharing and storage.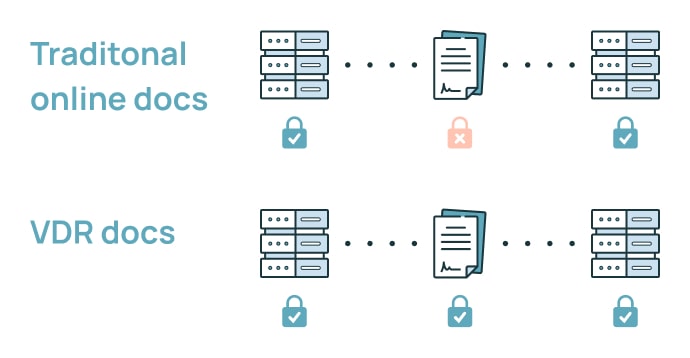 Compare data room platform availability
VDR Provider
Free Trial
Platform Availability
iDeals
30 Days
Web, Linux, Windows, Android, iOS
Firmex
Not provided
Web, Linux, Windows, iOS
Intralinks Dealspace
30 Days
Web, Linux, Windows, Android, iOS
Merrill Datasite
14 Days
Web, Linux, Windows, Android
Workspaces (WatchDox)
7 Days
Web, Linux, Windows
Clinked
10 Days
Web, Android, iOS
Citrix ShareFile
14 Days
Web, Windows, Android
Ansarada
14 Days
Web, Windows
SecureDocs
7 Days
Web, Cloud, Android, iOS
Onehub
14 Days
Linux, Windows, Android
Digify
7 Days
Web, Linux, Windows
ShareVault
7 Days
Web, Cloud, Android, iOS
DocSend
7 Days
Web, Windows
EthosData
30 Days
Web, Windows
Sterling
Not provided
Web
Virtual data room pricing structures
Virtual data room pricing ranges between $60 and $1,250/month for monthly plans, and from $15 to $1,000/month for annual plans. Final virtual data room pricing depends on your requirements and on the level of value the provider is offering. On average, the virtual data room cost for one project with up to 10GB of storage is $100/month.
Going for the cheapest provider when choosing a virtual data room solution isn't always the wisest course, because higher virtual data room prices often go hand in hand with better productivity and higher data security.
Once you begin comparing available virtual data rooms, you'll notice that every provider of virtual data room services takes a different approach to pricing. Here are the most common VDR charging structures:
Per-page pricing
This data room pricing model is ideal for small projects. Each page can cost anywhere between $0.4 to $1, which adds up to a relatively budget-friendly sum. But medium-sized or large projects may throw the fee schedule out of proportion.
Per-user pricing
The data room pricing per administrative user can work for most projects, as long as you clearly understand how many people will participate.
Storage volume pricing
Paying for data storage volume gives virtual data room users more flexibility. In this case, the virtual data room cost might be priced per 1GB or for a range of storage, for example, up to 10GB.
Length of data room usage pricing
Some projects only last a few weeks, while others can stretch for years. Pricing models based on duration usually offer more value for long-term projects.
Flat monthly fee
The monthly fee is the most common method for online data room pricing. It gives the most flexibility to users and works particularly well when it's difficult to estimate the project's storage volume beforehand.
Secure data room certifications in Canada
Physical security features
Even virtual data rooms have offline security standards. However enhanced and secure VDR cryptographic algorithms are, they also need to be in line with offline security standards to prevent hackers from physically visiting your server rooms and downloading sensitive data stored there to their DVD or USB flash drives.
Therefore, multiple data centers distributed across several continents and redundant data copies must be physically guarded 24/7 with the help of a security service, advanced biometrics, and keycard controls.
Digital security features for an electronic data room

Two-factor authentication (2FA) protocol ensures that data room users verify their identity and confirm their rights to the data with the help of two authentication steps.
SSL or TLS protocols that are gradually becoming the standard for any data exchange on the Internet provide maximum security for data exchanges between the server and the agent, safeguarding both of them from MITM (Man In The Middle) attacks.
End-to-end data encryption. 256-bit AES end-to-end data encryption. In case virtual data room providers do not comply with this protocol, the data transfer between servers and agents is protected but the document itself is not secured. Secure data room software has addressed this issue and now makes the documents themselves encrypted.
Digital Rights Management (DRM) limits or hampers copying, modification, and viewing actions with digital data. DRM protection allows businesses to control access to documents even after they are downloaded from a virtual dataroom by third parties.
The DLP system prevents leakage of confidential information thanks to built-in mechanisms for determining the degree of confidentiality of a document that can be detected in intercepted traffic.
ISO-27001 (digital asset security standard) compliance. An international standard that governs information security management in a company.
ISO-27081 compliance. Regulates the principles for protecting Personally Identifiable Information (PII) following the principles of confidentiality described in ISO-29100 for a public cloud computing environment.
GDPR compliance is important for the users of the virtual data room software who work with contractors, customers, or partners from the European Union, where it is impossible to proceed without following this standard.
HIPAA compliance. An important standard for those VDRs that have customers from the medical sector: the Health Insurance Portability and Accountability Act (HIPAA) is the information protection standard for sensitive data about patients.
FINRA compliance. This standard is created by the Financial Industry Regulatory Authority (FINRA) which provides regulatory services for the financial sector players.
FAQ
How to choose virtual data room software?
Choosing virtual data room software can be a daunting task: there are dozens of different providers who compete in terms of technology, prices, and marketing activities.
Besides, all of the largest online data room providers have each its own army of fans (as happens in the eternal confrontation between Microsoft and Apple) who are happy users ready to swear by the virtual data room services they use.
All these factors seem to make the choice of a data room provider a complicated business — but in fact, choosing a VDR can be pretty straightforward.
What you need to do is use a systemic approach to your search.
The process of choosing the best and most convenient virtual data room software is no different from any other project you need to deal with in your daily routine. And, like any other project, it has two crucial stages that require a thorough understanding and attention to detail every step of the way: preparation and execution.
The better you plan, the better your results will be, and the higher ROI you will get.
How to set up VDR software?
Well-built VDR software is easy to set up. If the basic customization is done correctly, it shouldn't take much time to start using the software efficiently. Even though the process is very straightforward, you can always refer to a virtual data room tutorial for guidance. The major steps of setting up a virtual data room are:
Select a VDR solution that meets your criteria
Decide on the primary purpose you want your online repository to serve. This can be anything from handling day-to-day task management to securing intellectual property or private equity. Consider the size of your business, the specific requirements of your industry, and the volume of data you will store.
Decide on the structure of the data room
To simplify planning the layout of your VDR space, picture a physical data room and apply the organizational principles that work best for your case. This way, the documents can be stored alphabetically, by department, by confidentiality level, or by any other criteria.
Make sure that sensitive data is separated from the main flow of documentation and has the appropriate security measures are applied.
Upload files and organize them according to your planned structure
Gather the required documents and place them into the folders and subfolders you outlined during planning. Take advantage of features like bulk uploading and auto-indexing to speed up this process.
Establish permissions and invite users
Define the roles of all participating internal and external parties, assigning each authority tier with corresponding access privileges. Then distribute the data room rights accordingly. Your main task is to ensure all employees and other interested parties have convenient and secure access to all the necessary files.
Maintain the data room and keep your files updated
To ensure the security and productiveness of all financial transactions, it is crucial to keep confidential documents regularly updated. Create a schedule for reviewing data room contents and rearranging them according to the current deal stage.
What file formats can I store in a VDR?
You can store and share data on virtual data rooms in many file formats. All VDRs support basic file formats such as docx and jpeg, but support for less common formats varies according to the VDR provider.
For instance, a virtual data room provider that specializes in serving real estate companies will design their data rooms to allow uploading file formats that other data rooms don't, because they have to cater for their clients' need to share construction plans and blueprints created in very specific software.
Depending on what virtual data room providers you're looking at, file formats that can be uploaded to their electronic data room include:
text files such as pdf, doc, docx, rft, and others
image files such as jpeg, jpg, raw, psd, pdr, ai and others
video files such as mp4, mov, avi, wmv, flv, and others
audio files such as mp3, aac, wav, and others
spreadsheet files such as xlsx, ods and numbers
How do companies use virtual data rooms?
Unlike standard file-hosting services (e.g. Google Drive or Dropbox), virtual data rooms ensure security for sensitive data, which is crucial for businesses. Companies use data room software to secure their internal documents, as well as sign external agreements and deals.
Most often, online data rooms are used to securely exchange sensitive documents during M&A transactions. But a virtual data room can be used in any other situation when an organization needs secure cloud storage and sharing tools to make sure confidential information stays protected.
For instance, organizations use a virtual data room solution when they need to exchange confidential documents while conducting a due diligence process, performing a real estate transaction, or carrying out an initial public offering.