Best Virtual Data Room Providers
Top Provider
Rating
Best for
Profile
Data room software introduction
A virtual data room (VDR) or online data room is a highly secure website and/or a native app (Mac, Windows, iOS, or Android), aimed to store and share data securely.
Virtual data rooms are widely spread among the corporate world players thanks to the advantages they offer:
the prevention of company data leakage;
flexible data management, regardless of where the data is located (you can read more on this feature in the section called DRM-system presented below);
accelerated and simplified workflow with integrated and flexible corporate solutions within the corporation, as well as with external players like contractors/partners.
Most often, online data rooms are used to securely exchange documents in M&A transactions. Unlike standard file-hosting services (e.g. Google Drive or Dropbox), VDR allows working with sensitive data, which is crucial for businesses. Companies are actively using data room software to secure their internal documents, as well as sign external agreements and deals.
In this review, you will find:
Comparison table of the best virtual data rooms.
The most popular virtual data room providers in Canada with all their advantages and downsides.
List of criteria that help you to pick the right provider for your business needs.
Recommendations on the features to consider when selecting a provider.
Finally, we'll provide you with a framework to choose a VDR provider while also saving business resources and protecting your business from irrelevant choices.
How to choose virtual data room software?
Choosing a virtual data room software is a difficult task: there are a lot of different providers who compete in terms of technology, prices, and marketing activities. Besides this, each of the providers has its army of fans (like the eternal confrontation between Microsoft and Apple fans) who are happy users. All these factors are making the choice complicated. At the same time, the choice of a VDR can be easier if you use a systemic approach to your search.
The process of choosing the best and most convenient virtual data room software is no different from any other project you need to deal with in your daily routine. And, like any other project, it has two crucial stages that require a thorough understanding and attention to detail every step of the way: preparation and execution. The better you plan, the better results, and higher ROI you get.
The preparatory stage when choosing a VDR
Write down your expectations (or maybe the expectations of your team) of introducing a virtual data room in your business routine.
Define the goal of the project, as well as its success measurement metrics.
Think through all the possible use cases — this step makes the goal decomposition easier and outlines the values of a VDR usage.
Use your use cases as a starting point to create a list of hard and soft data room services that are relevant to you. This will help to evaluate different data room providers during the execution stage. "Hard" services are those your business cannot use a VDR without (i.e. must-have features). "Soft" services are "nice to have" but not crucial (think of the wireless smartphone charger in the car).
Define the investment price range: how much your company is ready to invest in the data room software solution at the implementation stage and how much investment you can afford later.
Define the timing and set your deadlines for selecting and deploying VDR software. Don't forget to include the time it will take to onboard employees.
Identify a responsible team (or a person) that will be leading the execution stage.
Select the teams within the business structure to test the features of the short-listed providers during the trial.
The execution stage when selecting a VDR provider
When the preparation stage is done, you can safely proceed to the active or execution stage of the project.
Make a list of all virtual data room providers you can find on the market.
Gather information about all the providers and move forward with top-level evaluation: analyze these companies by a range of criteria including positive/negative reviews, the number of negative comments on forums, successful case studies featuring well-known clients, as well as use cases in your target industry.
Analyze the shortlist of virtual data room providers according to the list of features that you put together at the preparation stage (hard and soft VDRs features).
As a result of the previous step, you should get an even shorter list of providers (which is good news). The next step would be to contact them — either via email or their website chat pop-up — and request a demo. During the demo, check the features this particular product offers and look through all the options for onboarding and customer support this company has (it can be a knowledge base, 24/7 phone support, educational videos, dedicated account managers, etc).
After the demo, select one or two providers to run their free trial options for dedicated teams chosen within your company at the preparation stage (point 8).
If the trial ends successfully, sign a contract and begin the deployment of the virtual data room software across the whole company. It is the right time to start the onboarding process, too.
In general, the process of choosing secure data rooms is no different from the process of choosing any other software. The only difference is the number of participants involved and the cost of the transaction. The VDRs rating on our site will help you choose the provider that will meet all your requirements and help you achieve your goals.
Online data room services
To get the desired result when choosing a virtual data room provider, you need to carefully approach (and fine-tune, if necessary) the criteria which you use to select it – as the number of options you have is enormous.
All providers of electronic data rooms have several universal services that they offer to their users in common (so, if a provider you are considering to be a future partner does not offer one of the features below, it's probably not a good idea to sign a contract with this company and proceed with virtual data room comparison further):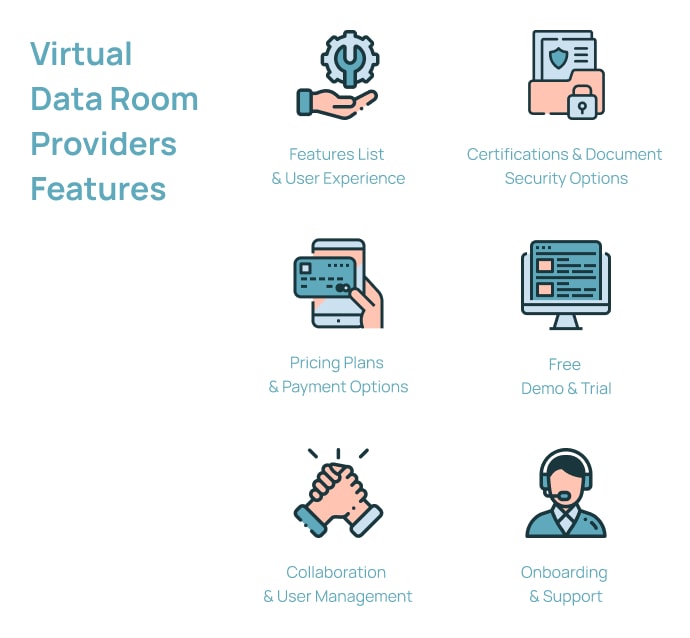 Features & user experience
The convenience of using a deal room coupled with available options it offers are the first things to look for when choosing a virtual data room provider: document watermarking, the user interface response time, the ability to work with different file formats, a convenient drag & drop editor, bulk uploading and automatic indexing of documents, etc. The list of options and features can last forever, but it's a good thing as the chances that you will find what fits your business the best are much higher.
Collaboration & user management
Together with other corporate tools, VDRs are built around collaboration. Therefore, it is crucial that the selected provider ensures uninterrupted collaboration around a necessary number of documents regardless of the number of employees or partners/contractors involved. To correctly evaluate this parameter, a good practice would be to rely not only on the providers' feature list but also consider virtual data room reviews from current users on the independent peer-to-peer review platforms, e.g. G2Crowd, Capterra, SoftwareAdvice, GetApp, other forums, and social media groups, etc.
Pricing plans & payment options
Different data room services have varying pricing approaches and different payment options for their users. These include monthly or flat rates, pricing for a single project, the price for unlimited projects, data limitations, etc. It is important to comb through all the options and choose the optimal one for your company.
Free demo & trial
If the provider does not have an option of a free demo and trial, then you need to take a close look at this company: most likely, it can be an indicator that there is something wrong with the product. It might be updating not quickly enough to meet the new technology requirements or the provider itself might be a newcomer on the market. In both cases, a no-trial or no-demo approach ensures secure VDR providers with recurring revenue supported by annual contracts.
Onboarding & support
This is probably the most important parameter when choosing from a variety of virtual data rooms. Deployment and onboarding are the key components of the process of acceptance and usage of the new tool by every member of the team. As a next step, providers' support teams help to solve complex issues when/if usage problems appear.
Certifications & document security options
It is basic and the most crucial feature for VDRs is Security. In the foregoing chapter, you will get to know about all the options businesses need to consider during the selection process.
Secure data room certifications in Canada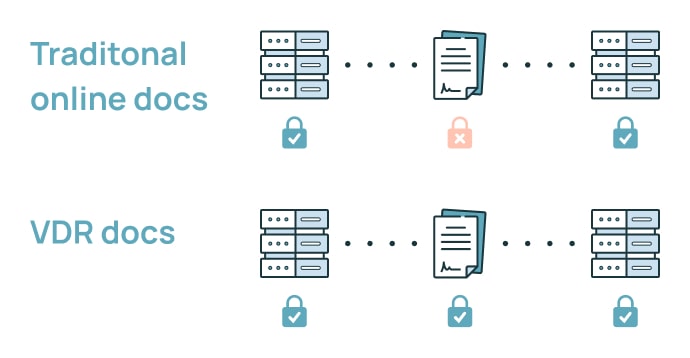 Physical security features
Even online data rooms have offline security standards. However enhanced and secure data room cryptographic algorithms are, they also need to be in line with offline security standards to prevent hackers from physically visiting your server rooms and downloading sensitive data stored there to their DVD or USB flash drives.
Therefore, multiple data centers distributed across several continents and having redundant data copies must be physically guarded 24/7 with the help of a security service, advanced biometric, and keycard controls.
Digital security features for an electronic data room

Two-factor authentication (2FA) protocol ensures that users verify their identity and confirm their rights to the data with the help of two authentication steps.
SSL or TLS protocols that are gradually becoming the standard for any data exchange on the Internet provide maximum security for data exchanges between the server and the agent, safeguarding both of them from MITM (Man In The Middle) attacks.
256-bit AES end-to-end data encryption. In case virtual data room providers do not comply with this protocol, the data transfer between servers and agents is protected but the document itself is not secured. Secure data room software has addressed this issue and now makes the documents themselves encrypted.
DRM (digital rights management) limits or hampers copying, modification, and viewing actions with digital data. DRM protection allows businesses to control access to documents even after they are downloaded from a virtual dataroom by third parties.
The DLP system prevents leakage of confidential information thanks to built-in mechanisms for determining the degree of confidentiality of a document that can be detected in intercepted traffic.
ISO-27001 (digital asset security standard) compliance. An international standard that governs information security management in a company.
ISO-27081 compliance. Regulates the principles for protecting Personally Identifiable Information (PII) following the principles of confidentiality described in ISO-29100 for a public cloud computing environment.
GDPR compliance is important for the users of the virtual data room software who work with contractors, customers, or partners from the European Union, where it is impossible to proceed without following this standard.
HIPAA compliance. An important standard for those VDRs that have customers from the medical sector: the Health Insurance Portability and Accountability Act (HIPAA) is the information protection standard for sensitive data about patients.
FINRA compliance. This standard is created by the Financial Industry Regulatory Authority (FINRA) that provides regulatory services for the financial sector players.
How much can a virtual data room cost?
Virtual data room pricing ranges between $80 and $1,500 a month. The final price depends on your requirements and on the level of value the provider is offering. On average, the virtual data room cost for one project with up to 10GB of storage is $100 a month. Going for the cheapest provider when choosing a VDR isn't always the wisest solution. Because increased virtual data room pricing often goes hand in hand with better productivity and higher data security.
Virtual data room pricing structures
Virtual data room pricing varies from one provider to another. At first, such price fluctuation seems confusing as the basic functions of each VDR are similar. To make the right choice, it is crucial to understand how providers determine the virtual data room cost and what online data room pricing model is best for your needs.
Once you begin comparing available VDR solutions, you'll notice that every provider takes a different approach to virtual data room pricing. Here are the most common VDR charging structures:
Per-page. This virtual data room pricing model is ideal for small projects. Each page can cost anywhere between $0.4 to $1, which adds up to a relatively budget-friendly sum. But medium-sized or large projects may throw the fee schedule out of proportion.

Per-user. The online data room pricing per administrative user can work for most projects, as long as you clearly understand how many people will participate.

Storage volume. Paying for data storage volume gives VDR users more flexibility. In this case, the virtual data room cost might be priced per 1GB or for a range of storage, for example, up to 10GB.

Length of data room usage. Some projects only last a few weeks, and others can stretch for years. Virtual data room pricing models linked to duration usually offer more value for long-term projects.

Flat monthly fee. The monthly fee is the most common method for online data room pricing. It grants the most flexibility to users and works particularly well when it is difficult to estimate the project's storage volume beforehand.
Online data room pricing explained
Three major factors contribute to online data room pricing.
Security. As VDRs deal with confidential data, strict security is a must. Enhanced safety measures, external regulation, and constantly updating compliances can affect the virtual data room cost.

Look for: ISO 27001, SOC 1 or 2, GDPR, and HIPAA certificates and compliances.
Support. Having access to 24/7/365 multilingual support can boost your VDR experience significantly. Virtual data room pricing will cover dedicated personal assistance with a variety of communication channels.

Look for: short response times, availability on weekends and holidays, single POC assistance.
Features. The more you can get done inside the virtual data room, the better. Additional VDR features can include different safety instruments, data gathering tools, analytical reports, and more.
Look for: automatic indexing, multi-factor authentication, dynamic watermarks, remote shred, broad platform integration.
Online data room pricing connects to the level of the provider's expertise and dedication. Acknowledging that virtual data room pricing essentially works in your favor can help you make the right decision faster.
Virtual data room comparison
VDR Provider
Free Trial
Platform Availability
iDeals
30 Days
Web, Linux, Windows, Android, iOS
Firmex
Not provided
Web, Linux, Windows, iOS
Intralinks Dealspace
30 Days
Web, Linux, Windows, Android, iOS
Merrill Datasite
14 Days
Web, Linux, Windows, Android
Workspaces (WatchDox)
7 Days
Web, Linux, Windows
Clinked
10 Days
Web, Android, iOS
Citrix ShareFile
14 Days
Web, Windows, Android
Ansarada
14 Days
Web, Windows
SecureDocs
7 Days
Web, Cloud, Android, iOS
Onehub
14 Days
Linux, Windows, Android
Digify
7 Days
Web, Linux, Windows
ShareVault
7 Days
Web, Cloud, Android, iOS
DocSend
7 Days
Web, Windows
EthosData
30 Days
Web, Windows
Sterling
Not provided
Web